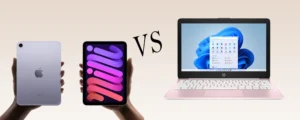 Selecting between iPads and laptops for your next business meeting depends on your specific needs and the nature of the meeting. Both devices have their advantages, and the choice should be based on factors such as portability, functionality, and the tasks you need to accomplish during the meeting. There are advantages to both devices. Also, iPads and laptops present limitations of their own as well.
London is one of the biggest business hubs in the world. There is always so much business activity happening around the city. Business meetings and events today need to be modernized with technology much more than before. Whether you go with iPads or laptops, some types of digital devices are a must for advanced meetings or events. Here are some considerations to help you decide:
Advantages of iPads for Business Meetings and Events
Compatibility and Portability
iPads are incredibly portable and lightweight, making them an excellent choice for on-the-go meetings, especially when mobility is essential. Whether you need small, lightweight, and compact devices for presentations or surveys, iPads will be the perfect options available.
Also, iPad rental services are available when you need these devices on a budget. Renting iPads for business meetings or events or any kind is the perfect option. It will save you money while offering full device usage and functionality as well.
Note-Taking and Annotating
If your meeting or event involves a lot of note-taking, sketching, or annotating documents, iPads with stylus support offer a more natural writing experience compared to traditional laptops. The Apple Pencil is one of the best pieces of hardware for writing on the digital screen.
Also, the Apple Pencil is the most accurate signage device as well. Digital documents can be signed using the Apple Pencil on the iPad incredibly easily. Your meeting or event can benefit greatly from the combination of the iPad and the Apple Pencil.
Interactive Presentations with iPads
iPads are great for interactive presentations and demonstrations. You can easily pass them around for participants to interact with content directly. Being so lightweight and compact, iPads are perfect for presentations and training sessions.
Also, with the Apple ecosystem, you can easily transfer files or send them. iPad Pro models run all kinds of apps naturally as well. Again, getting iPad Pro rental or iPad Air hire services for your business events is the best way to go.
Battery Life
iPads generally have excellent battery life, ensuring that your device won't run out of power during an extended meeting. Even when you have a full-day event or meeting, iPad battery life will be sufficient. This benefits managers and event organizers greatly.
With one full charge, the iPad rental devices will be able to provide full-day use. Most laptops don't have such longevity when it comes to battery life.
Apps
There are many productivity apps available for iPads, including note-taking apps, presentation software, and collaboration tools. The Apple iPad devices are some of the best optimized to run apps on large screens as well. Other Android tablets don't reach such application levels.
Also, Apple is one of the most secure platforms for apps as well. Your data will be much safer on an Apple device than any other. iPad rentals for business events services in the UK provide great benefits for users of all kinds.
Advantages of Laptops for Business Events
Still the Best Devices for Multitasking
If your meeting involves extensive multitasking, such as running multiple applications, managing spreadsheets, or handling complex data, a laptop with a full operating system may be more suitable. The larger screens and optimized multitasking UI make laptops the best devices.
Also, Apple MacBook Pro or MacBook Air laptops are leading the way. Windows laptops like Dell XPS, Microsoft Surface Pro, HP Specter, and a few others are multitasking champs as well.
Full Keyboard Typing Experience
Nothing beats a good old full-scale keyboard when it comes to typing. Laptops have physical keyboards, which can be more comfortable for extended typing sessions, like taking meeting minutes or composing lengthy emails.
Also, the likes of Lenovo laptops and some others have great keyboard dimensions. The clickiness of the keys and the experience is unmatched by on-screen keyboards of all types.
Powerful Software Experience
If you need to run resource-intensive software or require advanced functionality not available on mobile apps, a laptop is a better choice. Even though tablets like the iPads have come a long way, still laptops are the best when it comes to powerful software.
Whether you need laptop rental solutions for a software development event or any other, the power of software will be there. Also, selecting the right laptop rental devices will be important when it comes to usage.
Connectivity Superiority
Laptops often come with a variety of ports and connectivity options. These can be essential for connecting to external displays, projectors, or other peripherals during a meeting. MacBook laptops and Windows laptops today have many different output ports.
iPads and all other tablets on the other hand will always have that one port. USB-C is the port of choice for most tablets. However, when you need the best connectivity, laptops are surely the best devices.
Secure Platforms
Laptops typically offer more robust security features, which can be crucial if your meeting involves sensitive or confidential information.
Also, transferring files using secure software options is the best as well. Apple's MacBook laptops are generally the best when it comes to maximizing security and data safety.
Consider Renting Both iPads and Laptops
In some cases, it might be beneficial to use both devices simultaneously. For example, you could use an iPad for interactive presentations, note-taking, and quick access to documents while having a laptop on hand for more extensive tasks or as a backup.
Ultimately, the choice between iPads and laptops should align with your meeting objectives and the tasks you need to perform. It's essential to evaluate your specific requirements and select the device that best facilitates a successful and productive meeting.
The Tekk Group UK is one of the best iPad and laptop rental service providers in the country. We offer the best rental prices on iPads, MacBook laptops, and Windows Laptops. Call The Tekk Group today or fill out our form here to book your devices and get free delivery at your event venue anywhere in the UK.